Jul 7, 2023 05:01 PM Central
Terri Bonin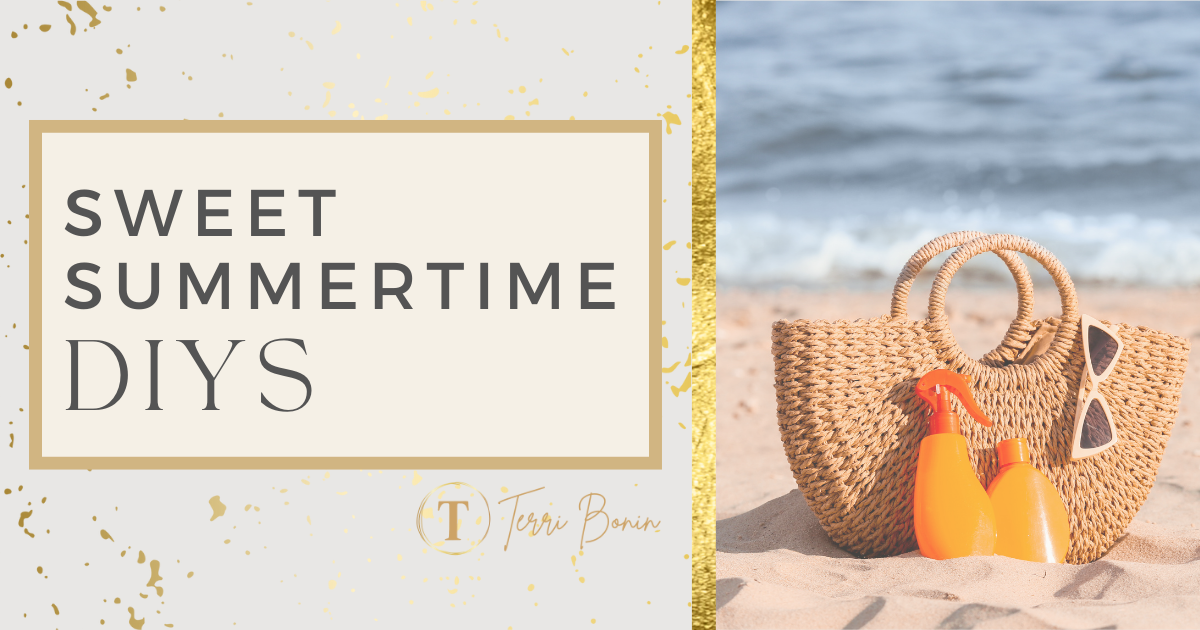 SWEET SUMMERTIME DIYS
Mermaid Hair Salt Mist - For mermaid-inspired waves any day of the week!
In a 4 oz. glass spray bottle:

Warm water
1 tsp fine grain sea salt
1 TBSP. fractionated coconut oil
10 drops each Lavender, Grapefruit, Rosemary

Mix water and salt gently, then add in remaining ingredients and shake to combine. Spray it in your hair after towel drying & get soft, beachy waves!!
Mermaid Hair Detangler Spray - for soft, smooth post-pool locks!
1 bottle Royal Hawaiian Sandalwood Hydrosol
1 Tbsp Copaiba Vanilla Conditioner
10 drops each Lavender, Rosemary, Grapefruit

Add essential oils and conditioner to the bottle of Royal Hawaiian Sandalwood Hydrosol and shake well. Use after a shower as a detangler!


---
SUMMER BLOCKBUSTER DIFFUSER BLENDS
Summertime movies on the lawn anyone?! These blends are reminiscent of warm nights in the grass watching our favorite movies with our favorite people.
Sweet Magnolias: 4 drops Orange + 3 drops Vanilla + 3 drops Grapefruit + 2 drops Lime
Emily in Paris: 4 drops Jasmine + 3 drops Tangerine + 3 drops Ylang ylang + 2 drops Lime
Yellowstone: 4 drops Northern Lights Black Spruce + 3 drops Bergamot + 3 drops Vanilla + 2 drops Clove
Grease: 4 drops Stress Away + 3 drops Neroli or Orange + 4 drops Jasmine
The Sandlot: 5 drops KidPower (or Valor + Vanilla) + 3 drops Ylang ylang + 3 drops Lavender
Mama Mia: 4 drops Royal Hawaiian Sandalwood (or Cedarwood) + 3 drops Lime + 3 drops Lemon + 2 drops Tangerine
---

It's HOT! The sun is scorching and the bugs are biting.. Use these summer DIY"s to help you beat both!
Mineral Sunscreen
Hands-down, the Young Living Mineral Sunscreen is our favorite sunscreen. It checks all of our boxes -- reef-safe, effective, all natural, great for all skin types, non-nano zinc, won't clog pores. What else is there?!
Quick tip!! Make application easy with this hack!

Bottle of YL Mineral Sunscreen
5 TBSP fractionated coconut oil or ClaraDerm Cooling Mist
20 drops Carrot Seed essential oil
Optional: 30 drops Citronella essential oil
Add all items to the spray bottle and shake well!
Quick tip!! For easy application (especially with kids!), you can dab sunscreen on the face and blend in with a makeup blending brush! Alternatively, dab the sunscreen onto the brush, then apply to the skin.
LavaDerm After Sun Spray
LavaDerm After Sun Spray is your first aid kit BFF!! LavaDerm brings relief from the pain and itching of minor burns, cuts, sunburns, scrapes, insect bites, or really any minor skin irritation. Whether or not your skin has seen a little too much sun or wind, this spray will help you feel soothed and refreshed! Apply after a day outdoors for a sigh of relief.
Quick tip!! If you need some relief ASAP and don't have any LavDerm on hand, try this DIY After Sun Spray:

25 drops each Lavender, Frankincense
18 drops each Tea Tree, Peppermint
V-6 Vegetable Oil carrier or carrier of choice
Insect Repellent & Insect Repellent Wipes
Insects can ruin your time outside. But most insect repellent is POISON to us. Young Living has a safe formula that kills bugs and supports us. You can use it as is or make it a spray with the following recipe. This liquid formula effectively prevents mosquito, flea, and tick bites, so you can enjoy the great outdoors worry free!!
Insect Repellent Spray Hack! Grab the Insect Repellent bottle and make it into a spray for easy use:

Bottle of YL Insect Repellant
3 TBSP fractionated coconut oil or ClaraDerm Cooling Mist
20 drops Citronella essential oil
Add all items to the spray bottle, but add the insect repellent last (it will not all fit!)
Quick tip! If you live in a state that has shipping exclusions for the Insect Repellant, try the wipes! Still can't order because of limitations? Add a spray top directly to your bottle of Citronella. Also try this DIY Outdoor Spray
25 drops each Citronella, Geranium, Lemongrass, Lavender
20 drops Eucalyptus Radiata, Tea Tree
V-6 Vegetable Oil carrier or carrier of choice or ¼ part Witch Hazel to ¾ part Distilled Water
Note: If you want to use a larger bottle, simply double the recipe. Also if you feel you need a stronger formula or are extremely susceptible to outdoor pests add more
Citronella, Lemongrass and/or Geranium!
DIY Itch Stick: for those times you forget your insect repellent!

In a rollerball, combine 10 drops Purification, 10 drops Lavender + 10 drops Lemon, and top with a carrier oil. Roll on bug bites & itches.
Quick tip! Dining outside & want to keep the bugs away? Grab an outdoor fan, put a few drops of Citronella + Geranium on a clothespin (or two!) & attach to the front of the fan & you have yourself a giant outdoor diffuser!
---
SUMMER ABODE
Give your home a summer refresh with these simple tips!
Summertime Citrus Thieves Cleaner
16 oz glass spray bottle
1-2 capfuls Thieves Household Cleaner
15 drops each Orange, Bergamot, Jade Lemon
10 drops Palmarosa or Ylang ylang
Water

Add cleaner and oils to a 16oz glass spray bottle, then fill with water. Use for all your cleaning needs!
Seaside Breeze Room Spray
16 oz glass spray bottle
15 drops each Lime, Rosemary, Lavender Bergamot
Splash of witch hazel
Filtered water

Add oils, water and witch hazel to your spray bottle. Spray around the room, on curtains or carpet to freshen your home & make it smell like a beach house!