11/16/2021 03:00 PM Central
Terri Bonin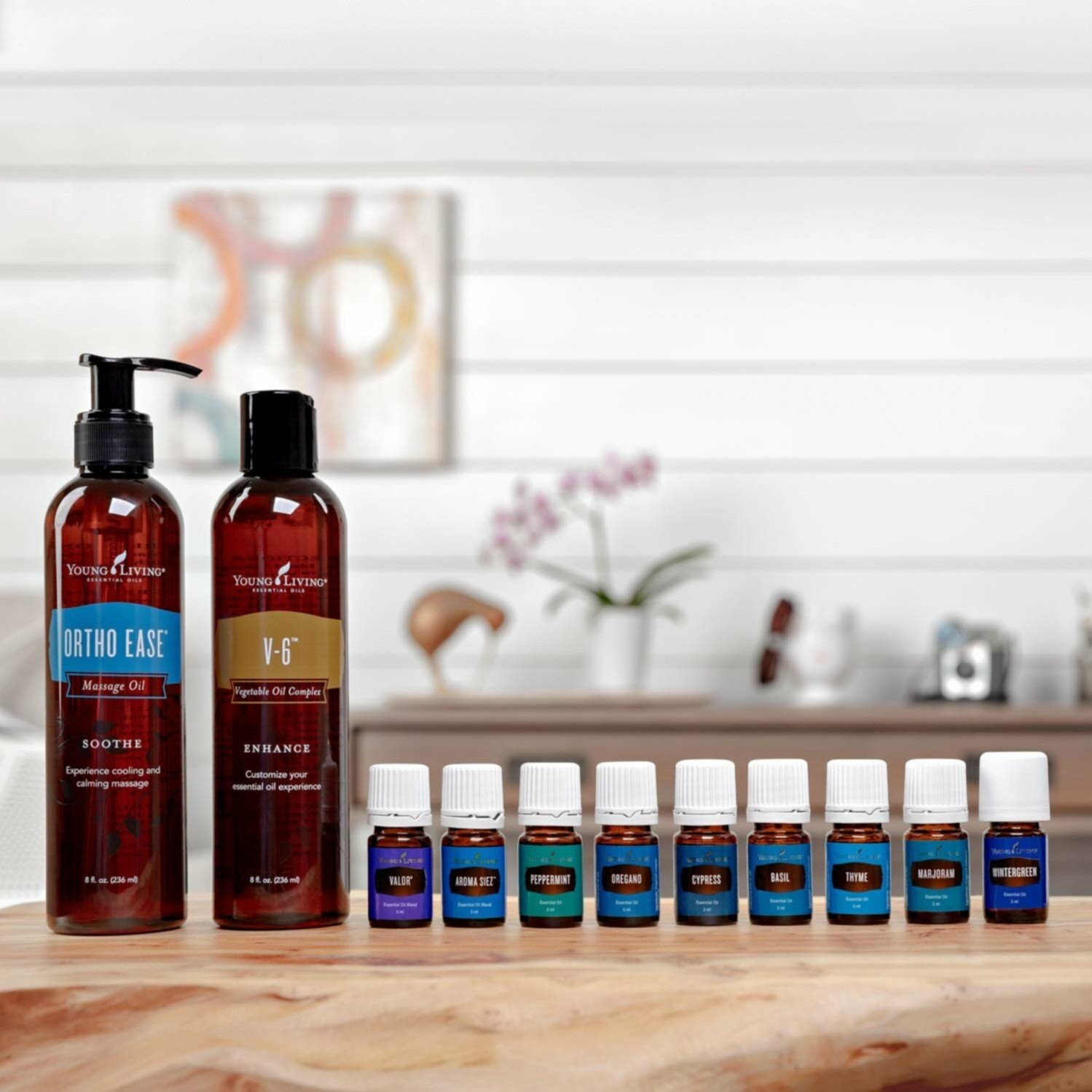 Let's talk about the Raindrop Technique massage. it's been apart of my family's health regimen for many years now.
When I say it's been a game-changer for my family, I mean I cannot imagine what our health would be like without it. The Raindrop has pulled us out of some serious health trials. But I also use it when it's just been a rough day or someone needs extra emotional and physical support! It's a beautiful way to support wellness.
I PROMISE!!
Grab your
Raindrop Kit
through your account. If it is out of stock you can order each item individually to build your own kit, but don't worry, the kit will come back in stock soon. It's just super popular!!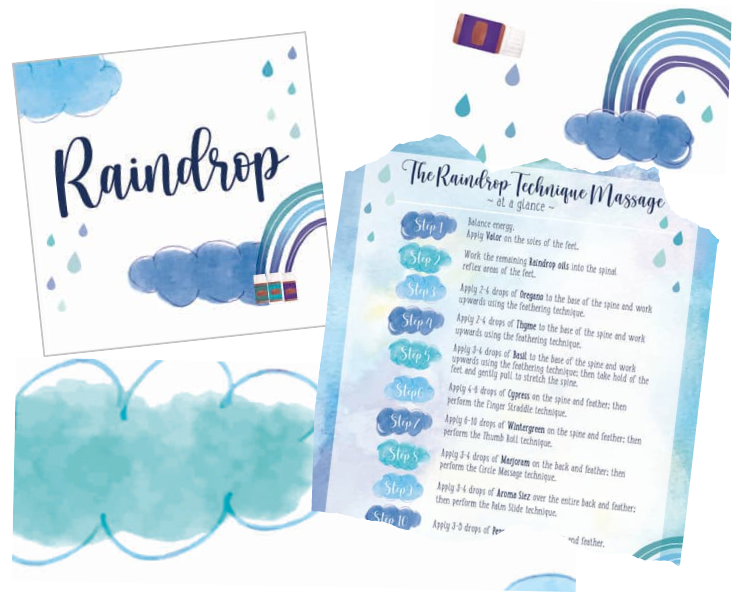 Print this cheat sheet and let me know what you think!

Side note: I've included a quick Raindrop Roller Blend. Mary Young is not a fan of this! I happen to agree with her. The roller bottle blend is FABULOUS support but will not do the exact same thing that layering the oils individually does. So just keep that in mind. :) Enjoy both, but they are different.
02/22/2021 09:45 AM Central
Terri Bonin
Ok, so it's no joke that this pesky yellow dust that has decided to grace our lives is more like the plague than anything. I get it. It's spring and we're going to get flowers and green trees out of this, but I mean COME ON. The stuff is everywhere and while I wish my life right now were more along the lines of "Death by Chocolate", let's be real, it's more like death by pollen.
Now, today I am not going to talk about different ways certain nutritional changes could affect the way our bodies react to certain things. That is another post for another time. Today, I want to reach those people in the midst of their wellness journey that find themselves traveling down the road only to be assaulted by the pollen-palooza of the year. Stuffy sinuses, runny noses, and swollen eyes all make an appearance in the pollen-parade. Sucker Punch? Maybe.
Hang in there, Soldier. There's an oil for that. If you need new artillery for battle, Young Living has got you COVERED. Let's talk about some of my favorite fortifying weapons, LLP.
---
When in doubt, just remember LLP:
Lavender, Lemon, and Peppermint.
Lavender

:

lavender is my favorite first weapon of choice. As soon as my kids start showing puffy eyes or runny noses, we take a drop of lavender vitality internally. It also works well to apply lavender topically by either swiping a drop into (or under) your nose as well as putting a drop on the inside of your cheek. This oil is DEFINITELY one you want this season.

Lemon

: lemon is great for topical use if you are one more prone to skin irritation this season. Just remember it's photosensitive and dilute if needed!

Peppermint

: there are so many things to say about peppermint. Peppermint purifies and invigorates. It's great to diffuse—I actually have lavender, lemon, and peppermint diffusing right now—and does well to filtrate all the nasty things that could be circulating in your home right now.
It's no joke these oils by themselves are the kind of butt-kicking, karate-chopping, jedi-ninjas you want on your team for combat. HOWEVER, the reason why they are presented here as a group is, when used together, they are like The Three Amigos taking care of business. Take three drops of each internally every day this season to help better support your respiratory system in its fight to ward off those icky pollutants.
Finally friends, I do want to clear: a wellness journey is NOT about quick fixes. It's a lifestyle, and no singular change you make will suddenly rid you of ever feeling bad again. My prayer is that you would see the value and the freedom that comes with living a toxin free life. God did not create this world with toxins in it. Before man fell, we had a perfect relationship with God, people, and this physical world. After the fall, the earth became polluted and our right relationship not only to God but to the physical world was broken. So while you're fighting navigating itchy eyes and runny noses this season, think about how they point to the fact that we need a savior. Something is not right with this world, and even our bodies BEG for that relationship to be mended. So, seek the Lord, diffuse some oils, and wait expectantly for the day that relationship is restored to its fullest glory.
Not a member? Join our tribe

HERE.

I'll send you $25 back plus all the info you need to use your oils with confidence.
02/15/2021 11:00 AM Central
Terri Bonin
Well, here we are. The Holidays are behind us, kids are back in school, jobs are in full swing, and hopefully we have fallen back into a new normal routine. Hopefully, two weeks into our new year, you are still just as excited about committing to a year of health and wellness! If, however, you are like the rest of us mere mortals and getting back into routine sent healthy habits to the back burner, NO WORRIES! I have been where you are, and am here for YOU.
A habit of health requires small, incremental changes be made part of your life. Today, I want to fortify you with more practical ways to institute a wellness mindset in your home. Let's make changes TOGETHER, you are WORTH IT!
Self-Care
A morning routine might be the most important thing you do in a day. A solid morning routine will set you up for success throughout the rest of your day. It will make you feel GREAT and ready to tackle the world. Spend a half an hour a day taking care of yourself and you will optimize your productivity all day long.
I have come up with ten activities for you to accomplish in the morning. They will set you up for success, which is why you should incorporate these practice into your daily routine.
Make your bed

Drink a glass of water right when you wake up

Wash your face and brush your teeth

Take your Vitamins

Eat a balanced breakfast

Exercise or take a little time to move, stretch, foam roll, etc.

Pamper yourself (use a skin brush, take a bath, or exfoliate with a coffee skin scrub)

Take three deep breaths

Find gratitude in your life/journal
---
A great addition to your morning routine is a shower with a natural, exfoliating scrub. This recipe is clean and invigorating.
8 oz. glass jar with lid

1 cup unbrewed ground coffee

½ cup olive oil or other oil of your choosing.
Combine all ingredients.

Mix together well.

Store in a cool dark place.
Apply scrub all over in the shower a few times a week to desired areas such as thighs, belly, and arms, and rinse off. You will not believe! Worried about it going down the drain? Apply a screen over your drain to catch the coffee grounds.