Sep 13, 2023 08:33 PM Central
Terri Bonin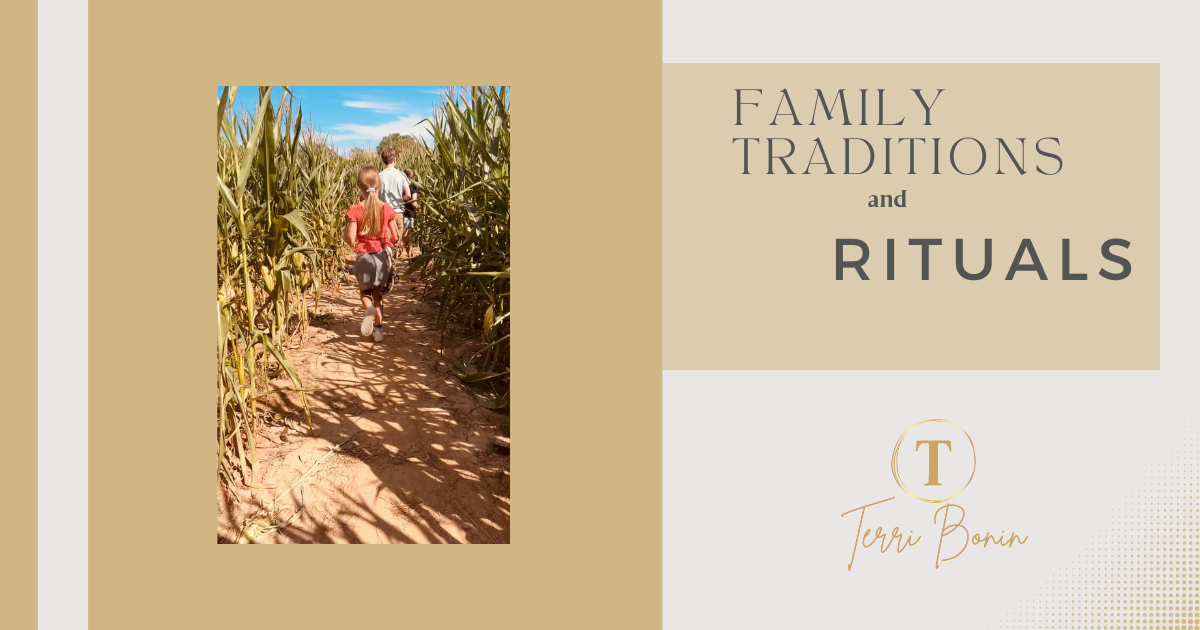 I just exchanged my
summer wreath adorned with soft yellow flowers and sage green foliage for the one with deep orange and burgundy leaves, and twisted vines.
I've already pulled out pumpkin yard art and I'm about to go buy some bails of hay to stylishly lay around to mark the season. Where I live this exchange of decor is about the only way we know it's autumn. Our car temperature gauges still reflect 3 digits midday but bring out the pumpkin spice, we need a change. The pumpkin spice tradition is anticipated by everyone I know. Traditions bring sparkle and break up monotonous routines that leave us dull and uncreative. Keeping anchoring traditions is a way people build a culture. Traditions unify and bring together. Tradition says, this is who we are and this is what we do.
Sunday Pot Roast
When I was a little girl my parents were the king and queen of providing a home rich with solid traditions. I remember my family of 6 seated around a beautiful table in our dining room on Sunday afternoons with a slow cooked steaming pot roast, mashed potatoes out of a box, my personal favorite and green bean casserole topped with crunchy fried onions from the can. After we stuffed our bellies, each headed to his or her own room for a long afternoon nap to be followed by church again in the evening. The after church Sunday family meal was a tradition I knew I would keep with my family when I became the mom. The meal, the timing of the meal and the nap were a tradition I loved.
Now that I'm the mom, I'm just too spent to create an experience like that every single week. How did my mom do it? I have so much respect for her. Our Sunday meal as a family is at deli after church, Jason's Deli to be exact. I knew early on I physically could not pull off the pot roast dining room meal weekly so 31 years ago we started our Sunday Jason's Deli tradition. In fact, I'm pretty certain our family is the reason kids don't eat free there any longer. Sounds silly to some but my kids look forward to the familiarity of the meal. They don't know there's a pot roast option...
Fall Traditions Ideas for you
Pumpkin Patch Visit: Head to a local pumpkin patch to pick out pumpkins for carving or decorating. Many pumpkin patches also offer hayrides, corn mazes, and other activities.

Apple Picking: Visit an apple orchard and pick your own apples. Use the apples to make apple pies, cider, or caramel apples together.

Leaf Peeping: Take a scenic drive or hike to admire the vibrant fall foliage. Collect colorful leaves to create crafts or decorate your home.

Fall Crafts: Get creative with fall-themed crafts like making leaf rubbings, painting pumpkins, or creating wreaths using leaves and pinecones.

Baking Day: Spend a cozy day baking fall treats like apple crisp, pumpkin bread, or cinnamon rolls. Let the kids help with mixing, measuring, and decorating.

Scarecrow Building: Build a scarecrow together for your front yard or garden. Use old clothes, straw, and other materials to create a friendly scarecrow.

Campfireand S'mores: Enjoy a backyard campfire and make s'mores. Share stories, sing songs, and stargaze if the weather permits.

Fall Nature Walks: Explore local parks or nature trails and observe the changes in wildlife and plants during the fall season.

Costume Planning: Start planning and creating Halloween costumes together. This can be a fun, creative project that the whole family can participate in.

Corn Maze: Navigate a corn maze (fun for all ages)

Movie Night: Have a family movie night with classic fall-themed movies like "It's the Great Pumpkin, Charlie Brown."

Harvest Festival: Attend a local fall festival or harvest fair with games, food, and entertainment for the whole family.

Fall-Themed Photo Shoot: Capture the beauty of the season with a family photo shoot in a park or among the fall foliage.

Thanksgiving Parade: Watch the Macy's Thanksgiving Day Parade on TV together while enjoying a special breakfast or brunch.

Fall Cleaning and Donations: Use the change in seasons as an opportunity to declutter the house and donate unused items to those in need.

Football Game Day: If your family enjoys sports, attend a local football game together or have a football-themed game day at home.

Day Trip: Take a day trip to explore a nearby town or city known for its fall attractions or historic charm.

Fall Gardening: Plant fall flowers or bulbs in your garden, or create a fall-themed container garden with colorful plants and decorations.

Family Thankfulness Jar: Start a family gratitude tradition by having everyone write down something they're thankful for each day and adding it to a jar.

Fall Decorations: Decorate your home for fall with seasonal decorations like wreaths, candles, and decorative gourds.