09/15/2022 03:00 PM Central
Terri Bonin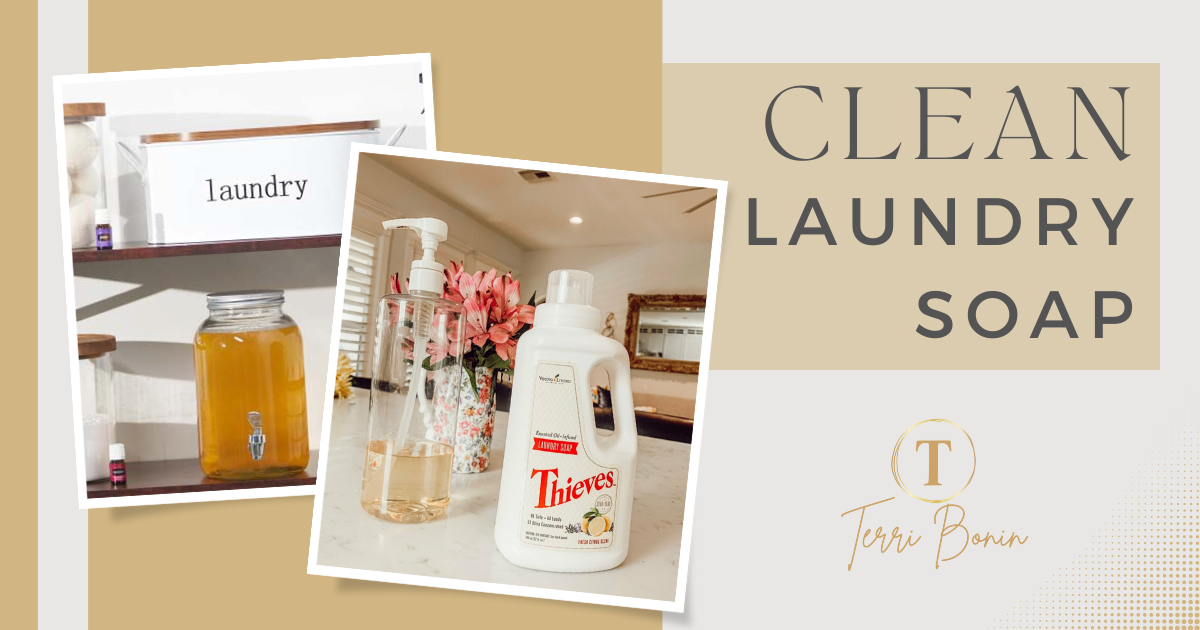 Having a big family means
that laundry is BIG. ALL.THE.TIME.
CLEAN LAUNDRY SOAP!
Since we have made the choice to decrease the toxic load in our home, it's been such a fun journey figuring out what works for us when it comes to switching out every day products for clean and safe ones. The cool thing about that is, because YL products are so concentrated, a little bit goes a very long way. So, our household cleaners and soaps end up being LESS expensive than any other item you can find in the grocery store (emoji). When it comes to laundry, I've come up with a fun recipe to help that ever so important laundry soap stretch out while still keeping our clothes clean.
We LOVE this recipe, and it is so quick and easy to make! Win, win, win!
---
Ingredients:
One bottle Young Living Thieves Laundry Soap

Bottle with pump! My favorite are

these

on Amazon.

Distilled Water

Thieves Household cleaner

Citrus fresh, Purification or one oil of your choice
Instructions:
Pour two cups Thieves laundry soap into empty bottle.

Add almost (not quite) 2 cups clean water

Add two capfuls of Thieve household cleaner.

Add 5- 10 drops of Citrus Fresh Essential Oil (or any oil of your choice)into container.

Optional: add another 5 drops of your favorite essential oil into each container as well. I love just adding some more Thieves for a stronger scent. PLUS extra stain fighting abilities :D

Close bottle and rock back and forth and upside down without shaking until mixed well.
ECO FRIENDLY laundry soap
There you have it! Quick, easy, and you can make your bottle of laundry soap last months longer than normal with this tips and tricks! Enjoy!