03/12/2021 03:00 PM Central
Terri Bonin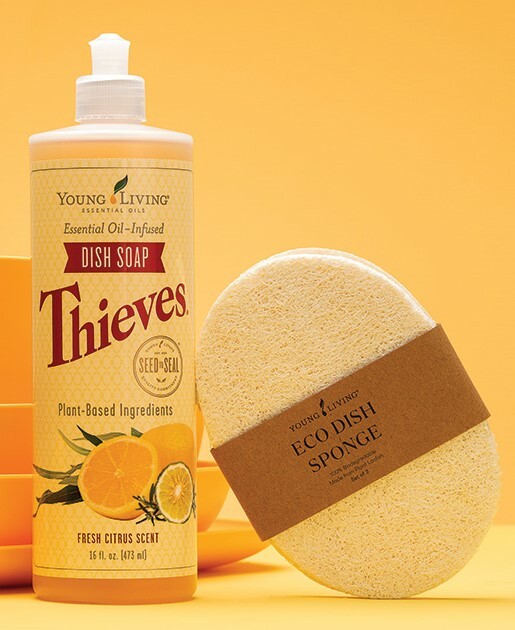 Let's talk about diluting our beloved Thieves Dish Soap!
If you know me, you know I never run out of this stuff. It is one of my very favorite products. I love that when I'm cleaning my family's dishes, I know that I'm not letting any nasty chemicals seep onto our dishes that could cause issues in our bodies. PLUS I know that it's perfectly safe for my kiddos to use, so I have absolutely no problem asking my littles to do dishes. My house is getting clean, and their little immune systems are being boosted.
Can you say "Mom Win"?!
Thieve Dish Soap Dilution
When you run out of Thieves dish soap, don't be so quick to through the bottle out!
Keep that bad boy and recycle for a later use.
What You'll Need:
One bottle of thieves soap concentrate
Two empty bottles of thieves dish soap
Baking Soda
A funky dance song!
Directions:
Evenly distribute your thieves soap concentrate among the three soap bottles. Eyeball it.
Add a tablespoon of baking soda into each of the three bottles
Fill the bottles the rest of the way with WARM water. This is important as you need it to dissolve the baking soda.
Put the caps back on and shake well to your funky dance song!
And there you have it! Super simple. Doesn't take more than 5 minutes and by the end of it, you've tripled your soap supply!
Happy Cleaning!
02/10/2021 02:00 PM Central
Terri Bonin
It is a down right disaster when our dryer goes out. Unfortunately I know this from first hand experience and it is something I hope NOT to experience again. For too many weeks in a row, my kids and I washed clothes and hauled the heavy wet garments to the laundry mat to dry.
It was a strength building activity that stretched our fruits of the spirit in more ways than we cared to be stretched. During this time my kids made unique friends and memorable experiences at the laundry mat that still cause night sweats.
When the repairman finally made it to our home, he took our dryer completely apart to find gallons and gallons of lint living in between the drum and the dryer. Since lint is flammable, the whole system could have burst into flames at any given moment, so it was a huge blessing in disguise that the giant unit gave out.
After this experience I take special care not only to clean the lint screen, but also to dig deep with a special tool to keep the lint from growing under the drum. Keeping the lint out of the dryer is SO IMPORTANT not only for the life of your dryer, but also for the life of your family. Dryer sheets leave a film on your lint screen that blocks circulation and makes your dryer use more energy. This will not only cost you more money, but will shorten the life of your dryer.
Instead of using toxic dryer sheets that will compromise your family's health and break your dryer, put several drops of your favorite Young Living essential oil on a diaper wipe or wash cloth! Toss it in near then end of the drying cycle and your clothes will smell amazing and your health won't be compromised!
To keep your lint screen clean use dish soap, hot water and a soft towel or tooth brush. Add a bit of baking soda if water does not run through the little holes on the screen.
Dryer maintenance is a chore we need to do not only for our dyers, but also for our families. Do you have any dryer maintenance secrets?
04/13/2020 06:00 PM Central
Terri Bonin
Sometimes you've just gotta attack the grout and shower scum!
Don't comprise your health by purchasing a toxic cleaner when you can make your own.
play with the amounts!
---
You need:
Baking Soda (1 part)

Dr. Bronner's Castille Soap (1/2 part of more)
Thieves Essential oil (about 10 drops give or take according to the size of your batch)
A splash of water if needed.
Mix together until it's pasty.
Buy a sturdy grout brush and get to work!
Enjoy the amazing results!
Happy Cleaning!
I learned this amazing recipe from my Insta friend Leslie Burris💕